Product Name: Automatic Rotating Knife Tape Cutting Machine with Punching Hole
Model NO.: KT-150HX
Origin: CHINA
Packing: WOODEN CASE
Brand Name: KUTEX
Delivery Time: 1 WEEK
Minimum Order: 1 PC
Quality System Certification: CE
Product Details: Automatic Rotating Knife Tape Cutting Machine with Punching Hole
KUTEX Automatic Rotating Knife Tape Cutting Machine Multi-function with Punching Hole
Applications: All kinds of Woven Belt, Webbing, Ribbon Tapes, Zippers, Leather Belts, Elastic Bands, Ropes, Slings, VELCRO, Shoelace, Plastic Soft Tube, Computer Cable, Labels, etc...
High Speed: It can cut 80-100 pcs per minute (e.p. 100mm long).
Accuracy: Cut-length is accurate owing to a stepping motor. A sensor makes cut-length accurate by automatic sensing at set-position.
Multi-Angle: By use of multi-angle cut function of straight knife, it can cut many different shapes and patterns, such as diamond, parallelogram, rhombic, square, pagoda shapes, etc... You can set up it by changing the length, quantity, angle, etc...
Punching Device: According to the needs of users, it can punching different size of the diameter of holes.
Cutting Type: The blade is made of high quality steel. Hot cutter can cutting ribbon, thin woven belt and the hot knife melts the end of the tape, cutting is sealed neatly smoothly without any fraying and burrs.
Automatic Operation: It works automatically only by setting length, quantity and angle.
Computerized: Automatic work and stop, The special fault by self-diagnosis. Direct show the fault problem on the screen, it will easy for you to find clear way to repair.
Automatic Stopper: It stops automatically if materials run out during operation.
Memory: Set-length, set quantity and set speed are not erased even if power off and on.
Cutting Samples: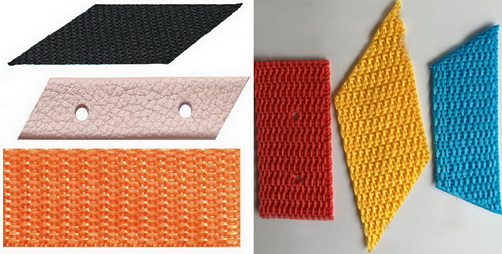 Specifications:
| | |
| --- | --- |
| Model No.: | KT-150HX |
| Cutting Length (mm) | 20-99999 |
| Max.Cutting Width Straigh/Bevel (mm) | 100/35 |
| Max.Blade Temp (°C) | 450 |
| Voltage | 110/220V |
| Punching Hole Diameter | 2-5 mm |
| Recommended Presser (Mpa) | 20-50 |
| Weight | 78 Kgs |
| Packing Size | 80x57x62cm |
| Power | 0.5KW |
| 100mm Cutting Speed (p/min) | 120pcs |